to my favorite yoga pants.
I was inspired to ditch these much loved, much adored, much used yoga pants by Kacy Paide of The Inspired Office. Her series on minimalism goes through a items one by one and explains why it is time to part ways. If she can part with 31 items, I can too.
I am not someone who has a tough time tossing things.  In fact, in 2016 I got all of my keepsakes down to a single box. [Read about it here!] Where my issue is when something has to be replaced when I feel like what I have is good enough. And replacing something you love so much is a challenge. Each time I've tried, I've talked myself out of the purchase because the pants could see just one more day…or one more week. OK, another month.
Last night, I made the executive decision my yoga pants must move on and I from them.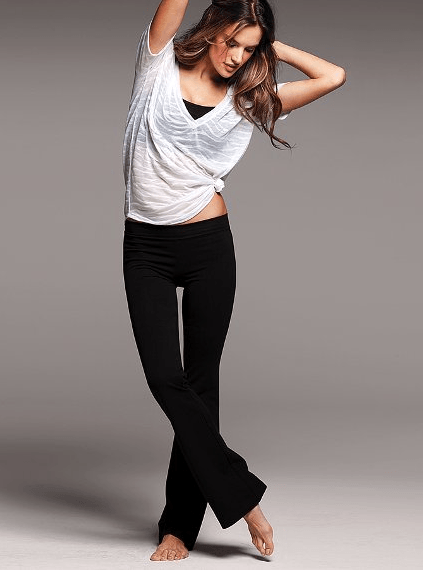 It started a few months ago. The in seam started to separate and I sewed them up. I'm not a great sewer so it is not sightly. These pants have been splattered with vacuum cleaner dust. They have had face wash dropped on them. Toothpaste, dog slobber, and I am sure some coffee has made its way on to the fabric at some point. They have been washed and washed and washed. I love them and keep them because they are so soft and so comfortable! They are well-worn to say the least.
Last night my husband noticed the poor sew-job on the inseam. He pointed to the exposed loops – yes loopS – and laughed. Then, last night, I went to pump out some of my face wash and a huge spray of it squirted right onto them. It is a gel cleanser so it got right in. I wiped them down with a wet rag in an attempt to salvage them for the night, but alas…. I decided it was time.
So goodbye, discontinued Victoria's Secret classic yoga pant. We've spent a lot of good times together and a lot more messy times. It is time for us to part ways. Thanks for the memories….