[image credit: kobini]
Last weekend I went to see the Blue Angels air show in Baltimore. It is an event I had heard of over the last several years but never attended. I could see them from my brother's house way in the distance and could hear them flying over head from my house but I never really saw them.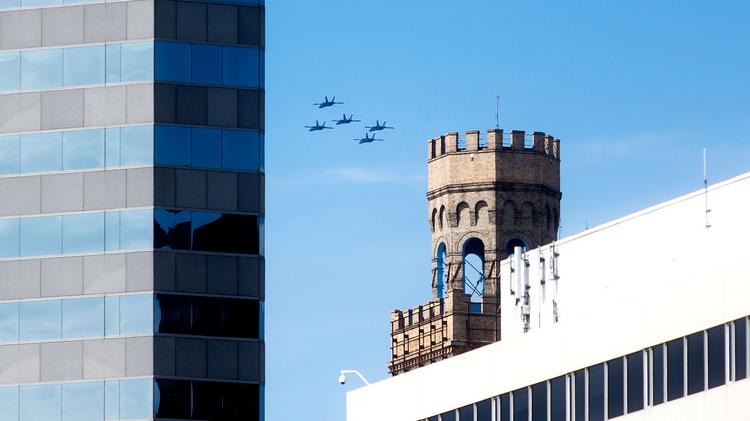 [image: The Business Journals]
My mom called and invited me down to watch the air show. The day was beyond beautiful: 70 degrees, not a single cloud in the sky, a gentle breeze. I was with my mom and step dad who I enjoy being with and don't get to see as often as I'd like. I was watching the planes fly overhead and was witnessing something for the first time. I found myself, phone in hand, trying to capture this first time experience on video for Instagram. My excuse was I wanted to share it with someone who wasn't there. Ironically, that desire to share it with someone who wasn't there made me "not there." I recognized that I was not being present and put the phone away after a few failed attempts to capture the Blue Angels souring above the crowd.
Those pilots were probably having the time of their lives, fully present and aware. I began to imagine the messages being relayed through their headsets, communicating with one another to stay safe and interact. I pictured them rooting each other on, cheering "wooo!" as they flipped up side and and spun around. I usually place huge judgment on people who "view life through their phones" and here I was doing exactly that. I decided to be fully present: To talk to my mom and step dad, be with them, phone away, really be aware of how awesome this air show was. (I did have ear plugs in because those planes sure are loud!)
Cut to yesterday. Throughout the day I had  thoughts of how to really live life more, be more present, more alive! While I was using the app AppDetox to keep myself off instagram from the hours of 9am-5pm, Honestly, I didn't miss it. I had no burning desire or feeling deprived. When I would decide later in the evening to check it, I felt nothing: no joy, no annoyance, nothing. It was a space and time suck in a way that added zero value to my life. I was on it because I thought I was supposed to be. Everyone uses Instagram, right!?
I found myself trying to post my life and view others' lives through these posts. I wasn't addicted, but it was an "escape" from the work day, to distract me from whatever I didn't feel like doing, feel like feeling or experiencing, using it as an excuse for "inspiration" when really I got none from it.
So, I removed the app from my phone. Then went online and deleted my account.
I want to be more present. I don't want to do things with people and go to events and think of having to share it. It no longer serves a purpose for me. I know many people love it and find value in it. It was fun for a while, but for me, it's time to use my own eyes as my real-life instagram.